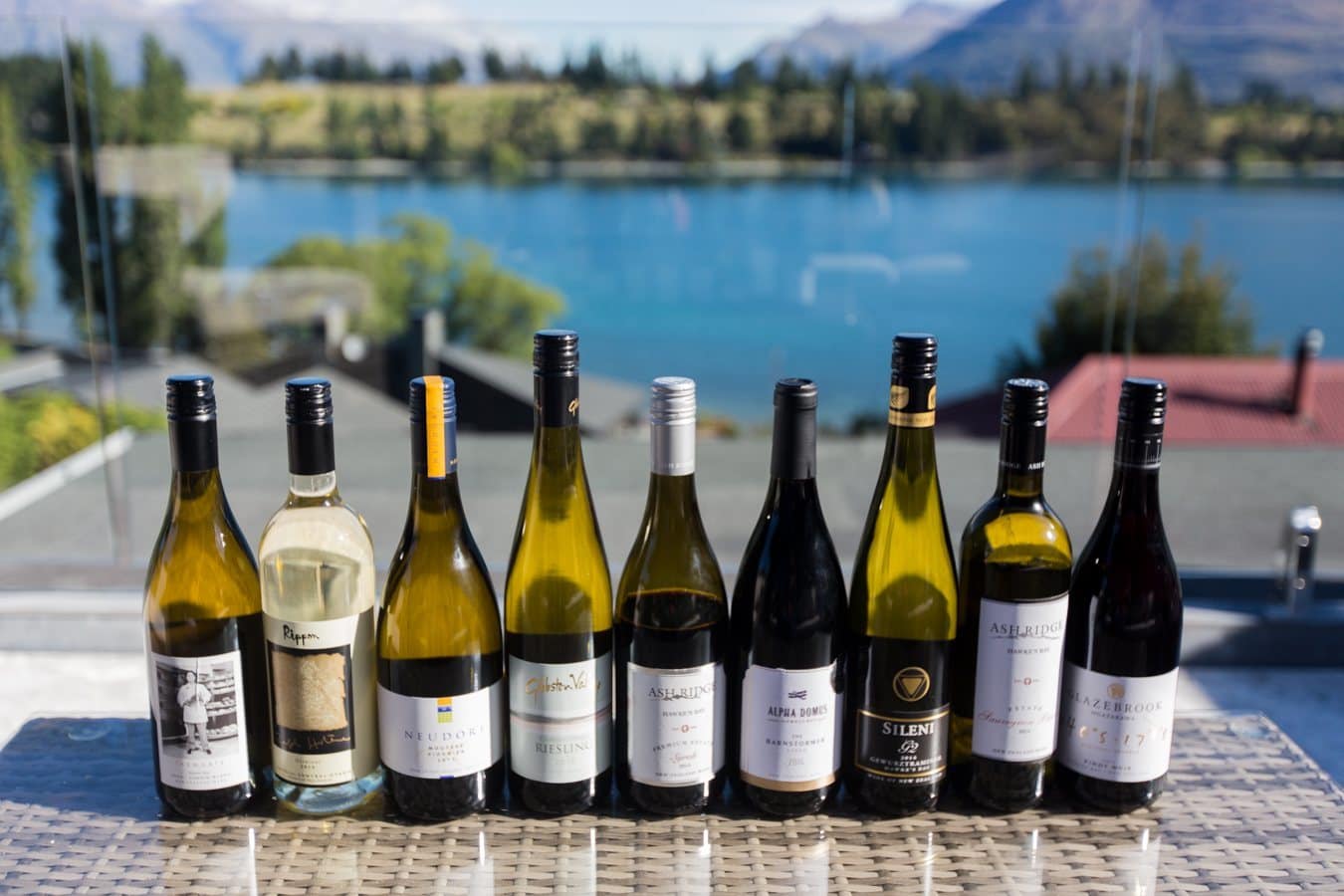 You'd think that if we were making wine tasting such a large part of our trip that we'd go to the major wine region of the country, but of course not – we only visit the wine regions you haven't heard of. (Honestly it was an accident, but it worked out – in hindsight I'd probably recommend Sonoma or Anderson Valley over Napa, so why should it be surprising that we skipped Marlborough?) Here are a few notes on the wineries we visited in New Zealand.
Waiheke Island
Peacock Sky – very remote. Nice isolated view, good cheese platter, but kinda meh over all. Servers didn't know anything about their wine. We had a couple of glasses of white wine (can't remember which) that were recommended to us because "it's hot". They did provide the bubbly for week 38 though! (3/5 stars)
Te Whau – spectacular view of a beautiful blue bay with moored sailboats and Auckland in the distance. Organic and sustainable, everything done on site from growing to bottling. Knowledgable staff and a pretty kitty. They offer a vertical tasting of pinot noirs – a lot more striking than Peacock Sky!
The Batch – Fantastic view from the highest winery on the island, perched up among a large section of Department of Conservation land. Low key with a hip element. Pavlova looked great but unfortunately they were out. Our favorite in Waiheke! We had a sparkling flight and took a bottle of their peppery sparkling pinot noir to pair with our rijsttafel in Napier. (Though we ended up just enjoying it in our hotel.)
Hawke's Bay
Sileni – a pretty large operation. We were the only ones visiting so it was nice to talk at length with Anne in the tasting room, but the overall vibe was a little too retaily for us. The sauvignon blanc, the gewurtztraminer (bought a bottle) and the syrah were great though. We also picked up a sparkling sauv blanc for week 39!
Alpha Domus – questionable understanding of classical languages ("our name is latin"), solid winemaking skills. Could have gone for less talking, more pouring from the lady in the tasting room, but the Barnstormer syrah was so good we bought a bottle even though we tend towards whites. Max was allergic to all of their trees.
Abbey Cellar – when we rolled up to Abbey Cellar we were both really impressed by the architecture – their tasting room is in the style of medieval church buildings, yet is made with concrete and metal. Very cool! We had some decent wine (while avoiding the large bus group finishing up), but the highlight was sitting outside with their cheeseboard and a glass of their beer, because they also make beer. Wine, cheese and beer: just like a real medieval abbey!
Ngatarawa (pronounced na-TAR-a-wa) – GREAT indoor/outdoor space where they've been making wine for quite awhile, complete with nice wine dog. (Wine dogs of New Zealand. It's a thing.) Not sure we tasted a single thing we didn't like, but we left with a nice bottle of chenin blanc and a pinot noir that had been barreled in cedar and had this incredible smoky finish to it, just like a nice scotch!
Ash Ridge – Our bike overlords not only had a great idea with the bike hires, they make great wines. Of course, it might have been the four wineries we'd already tasted at talking, but we liked their wine enough to buy a bottle of sauvignon blanc and of syrah. We're still not sure if we've somehow missed this in Napa/Sonoma or if nobody makes syrah/makes it like this, but the peppery low-tannin nature of syrah here is just phenomenal. And of course sauvignon blanc (possibly just those from outside of Marlborough) has all those lovely passionfruit notes that Max goes crazy for.
(Aside: apparently all Marlborough sauvignon blanc is made in the same style, so that no matter which bottle you buy, you always know what you're going to get – seems a little lame for something that's 65% of the entire country's production, but I guess consistency pays….)
Nelson
Neudorf – one of Nelson's oldest wineries, we stopped here largely on a whim while exploring the Moutere highway. We didn't really feel that welcomed ("try what you want but I wouldn't recommend trying them all"), but we did buy a bottle of their viognier after discovering its lovely apricot notes.
Kahurangi – A brief stop to get the bad taste out of our mouth if you will after the previous winery, Kahurangi had a nice range of whites that we tasted all of. If we hadn't already had some 7 or 8 bottles that we were freaking out over what to do with, we probably would have bought the sauv blanc or one of the rieslings. Oops!
Central Otago
Very excited to explore Central Otago with Elisse & Scott! Hilariously, we've never been wine tasting with them before even though we live a mile apart from each other, surrounded by wine county. (Epic fail partially made up for by the awesomeness of tasting together in New Zealand. Summer school time!)
Akarua – Recommended by Elisse & Scott's local expert and independently discovered by Kristan, our ulterior motive here was to acquire a sparkling wine for week 40. The tasting room and other infrastructure was supposedly 10-20 years old, but felt incredibly new and contemporary in design aesthetic. Some great wine (the "entry level" Rua pinot noir was lovely) but we did wish for little more description and guidance from the taster.
Carrick – We went here largely because we weren't ready to leave the immediate area Akarua was in and Carrick happened to be across the street. Our tasting was a little awkward but we all really liked the riesling and chilling in the outdoor area full of sculptures and lake views!
Rockburn – We don't actually remember why we stopped here, but we did – some very interesting wines (like a smoky fume blanc) though sometimes more interesting than drinkable. The best part was talking to the taster, a young Kiwi who shared some insight into summer Christmases. What's lovely for Kiwis (and Aussies) is that the summer vacation corresponds with the holidays, so Christmas is all about the cousins coming over, going for a tramp, splashing in the pool and having a barbie. Sounds pretty nice to us if a little strange! (Not that we get snow or have pool weather in San Francisco at any time of the year, really.)
Mt. Difficulty – The second best part about Rockburn was that the taster suggested we head to Mt. Difficulty for lunch. Sweet as!! We had a killer lunch that had a wine tasting intermission followed by a cheese board. YES PLEASE. We got a bottle of gewurtztraminer and a bottle of a nice dessert pinot gris.
Brennan – Also recommended by Elisse & Scott's local expert, Brennan had some lovely whites but the pinot noirs, which we tasted vertically, were outstanding. They're also the only folks making a Tempranillo so Scott fell in love despite being the driver and not really tasting. Max was out for the count because of allergies but Brennan gets full marks for great views, great staff, and great wines!
Bonus Wine Region: Shoalhaven in Australia!
Two Figs – Small winery overlooking the Shoalhaven river. You have to literally drive through the cow pasture to get there! Mainly whites (including a chambourcin, which we'd never had before) but a couple of nice soft reds as well. Everything we tasted was pretty good and we ended up with a bottle of Sunday Afternoon, their verdelho/chardonnay blend, to enjoy on our last night in Australia. We also picked up a bottle of their brut for week 43!